CANADA'S PREMIER CHOICE  FOR COVERAGE ON THE WATER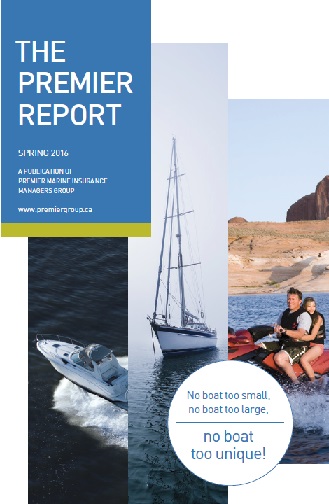 Premier Marine has led the way for over 25 years, providing first class, competitive marine insurance products and unparalleled claims service. Premier is proud to be Canada's largest provider of Marine Insurance. Join us as we launch into 2016 with more improvements.
PROGRAM IMPROVEMENTS FOR 2016:
Angler's Equipment Endorsement
Provides specific coverage for sport fishing gear and equipment including rods, reels, downriggers, tackle boxes etc.
Lower Minimum Premium
As low as $130 for a stand-alone boat policy
We have made it more cost effective to give even the smallest boat a true marine policy
OTHER NOTABLE PREMIER MARINE FEATURES:
guaranteed replacement cost endorsement provides grc for boats up to 3 years of age – covers cost of a  brand new current model year, irrespective of policy limit
$1 million separate pollution / spill liability limit included
one of the only policy forms in canada to include consequential damage coverage – let our underwriters walk you through this critical coverage
we make doing business easy – less stringent survey requirements than our competition. (photos are often accepted in lieu of surveys)
Are you making the right choice when scheduling a boat onto a Homeowners Insurance Policy?
Protect Your Client's Claims Record
When a boat is added to a home insurance policy, your client runs the risk of losing their claims free discount (and affecting their eligibility with the homeowners market) should they have a loss on the boat. If you buy a stand-alone boat policy with Premier, you protect their homeowners' loss record.
True Marine Coverage
A Premier policy is a true marine policy, providing coverage, not available on a homeowners form:
$1 Million Pollution / Spill Liability
Removal of Wreck Coverage
Uninsured Boater Coverage
Claims Experts
If a claim does occur, your client will enjoy the experience of working with a knowledgeable marine expert – someone who can talk boat!
Stand-alone Marine Policy available for as low as $130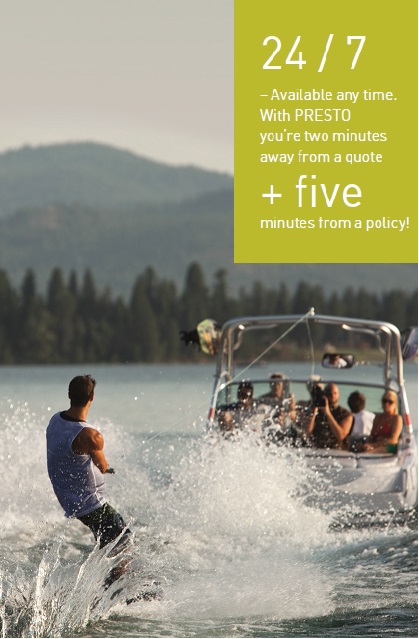 PREMIER'S INSTANT QUOTE
+ POLICY ISSUE SYSTEM
PRESTO PROVIDES REAL-TIME QUOTES AND INSTANT POLICY ISSUANCE RIGHT FROM YOUR DESKTOP!
Quote and issue policies for Marine Pleasurecraft up to $400,000 in value
easy to use – a complete policy with declarations page, wordings & invoice generated in minutes
no delays or follow ups for policy documents
Submission details automatically transfer to an application which can be printed for signatures
PRESTO can be accessed from a PC, laptop, or tablet!
IT'S EASY TO USE! WIN PRIZES IN RANDOM DRAWS!
obtain a login and password from our website www.premiergroup.ca or email presto@premiergroup.ca